bellroy card pocket review – a small wallet that actually works!
Like I wrote in yesterday's post, I'll be reviewing the bellroy card pocket that I bought at the Shibuya Loft.
I've only spent one day with it but I have a feeling I'll be using it more than that.
In fact, I have a feeling it's going to become my main wallet.
What's bellroy?
bellroy is an Australian brand that makes a range of products with the concept, "slim your wallet".


Though the concept and products looked promising, I kept my distance from them for a while because of their heavy advertising.
Which isn't a bad thing, I just like brands that keep a low profile.
But when I saw it in person at the LOFT, I could instantly tell that the products were going to work in real life.
So I decided to give the card pocket a try. This is bellroy's smallest and cheapest product so if it ends up being crap, the damage to my wallet will be minimized.

It cost 7,992 yen including tax.
bellroy card pocket – the review
Capacity
The bellroy card pocket is a card size zip wallet and has compartments for:
cards

coins

bills

SIM card
Its going to be hard to get a SIM card in and out of the tiny slot, and it's not something that I'll be using everyday so I won't be going into that function.
First the cards. According to bellroy's website, the wallet fits up to 15 cards.
This seems possible because I was easily able to fit in 12 that I had with me.
However, with coins and bills in the wallet, the wallet is going to fill up so 6 cards seems like the optimal number of cards, which will give you plenty of wiggle room just in case.
Next, there's a deep pocket for coins.
The plus side of the deep pocket design is that it prevents coins from spilling out inside the wallet.
The negative side is that it makes it harder to access the coins.
This isn't a problem for me because I usually empty out the coins at the end of each day.
That way I can keep the wallet nice and slim!
Lastly, there's a shallower pocket for bills.
You have to fold the bills but a 10,000 yen bill will fit trifolded.
Again, if you want to keep the wallet nice and slim, I wouldn't stick in too many bills.
For easy access, I fold and put in the bills separately and not in a stack.
Design
I like the compact design!
The leather isn't super high grade but it doesn't feel cheap.
Personally, I liked how the colors on the zipper and the zipper tab matched on the gray version.
The wallet is available in four other colors which all look nice.
The owl symbol adds a nice touch. (Update: the color is chipping off on the Owl and I can see it turning copper. Its not bad though.)
Made in India.
Usability
Really good.
The existence of the zipper just makes things so accessible.
I'm using it in the place of the slimfold but it's just soooo much better.
Let me give you an example.
With the slimfold (used double folded) it take four actions to access the wallet (open, open, open, open).
With the bellroy card pocket. it's two (unzip, open).
Build
I mean, the slimfold is paper.
You're not even supposed to compare the two, but the bellroy card pocket is made out of leather and the durability is totally different.

You can use it without worrying about wear and tear.
The zippers weren't gliding well so I rubbed a candle on it.

Works like a charm every time.
Capacity
The bellroy card pocket has the capacity to hold 15 cards if it needs be.
If you keep that at six, you'll have space to fit receipts, coupons, keys, a flash drive, whatever you might need to carry.
This is really convenient.
Final remarks
I really like the bellroy card pocket.
If you're looking for a compact wallet that has decent capacity and actually functions, this is a strong recommendation.
It doesn't have a flaw that's a flaw, you know?
It's not as slim as the slimfold but it's compact enough to maintain a small foot print used together with machine era.
I'll be using this baby for a while to see how it holds up.
If it holds up I'll check out some other products by bellroy that caught my attention. 
Stay tuned for more reviews!
Where can you get bellroy wallets at a discount?
I got mine at the LOFT, but they sell for retail price.
LOFT regularly gives out 5% off coupons so you should try to get a hold of one before making your purchase.
You can get them on amazon and Rakuten too, but they are also retail price.
Go look at the bellroy card pocket on Amazon

 Go look at the bellroy card pocket on Rakuten
One other way to get it at a discount through the official distributor using the link below for a 200 yen discount.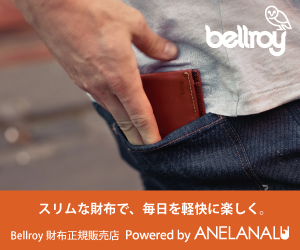 (Visited 1,822 times, 1 visits today)